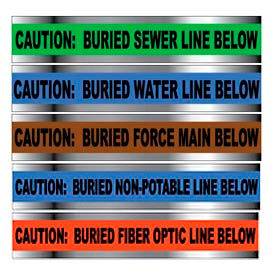 Detectable Warning Tapes
Detectable Underground Warning Tape Minimizes Field Costs and Time Spent Locating Buried Lines.

Tapes are color coded according to American Public Works Association standards. Made from 5 mil, triple layer lamination of aluminum foil core encased in 100% virgin polyethylene. Tape can be found by metal detector to eliminate needless digging. Subsurface graphics permanently protected from soil acids and alkalis. Tapes withstands temperatures from -94°F to 200°F. for excellent longevity. Available in three sizes: 2 x 1000', 3 x 1000 , 6 x 1000'.