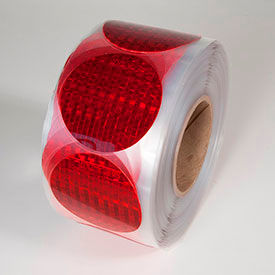 DOT Stick-On Reflectors
Reflective Marking Tape, Red, 2"W x 3-1/2"W, 50/Roll, RR250RD

Flexible Engineering Grade (RVG) Retro-Reflective sheeting is a product manufactured primarily for use as fleet markings, vehicle markings, stickers and decals. It can also be used on commercial signs and various labels. Reflective Vehicle Marking Tape is highly resistant against the extremes of hot, cold, dry, and humid weather conditions. The sheeting is formulated specifically to have greater flexibility but still capable of offering high retro-reflective surface. The tape comes with a release liner to allow easier handling and to protect the pressure sensitive permanent adhesive. Best results are obtained when applied to flat surfaces, but it can be applied successfully to corrugated materials. When the RVG series retro-reflective sheeting is handled and applied properly it will have a performance life of 7 years when exposed vertically. Due to the wide variety of applications, we recommend that only professionals with experience in fleet or vehicle graphics install this product. Once installed it becomes very difficult to remove or augment and may cause damage to the surface to which it is applied.