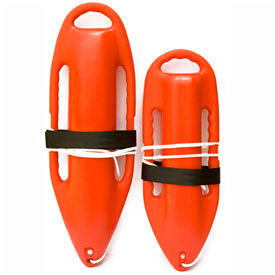 Kemp Water Rescue Tubes & Cans
Kemp Water Rescue Tubes And Cans Are Used For Applications Including Safety, Marine, Educational, And More.

Kemp water rescue tubes and cans are made of high quality materials for long lasting dependability. Tubes and cans are used for pools, waterparks, guard training, and more. Includes thick walls for unit strength and nylon strap for convenient handling. Features molded, pebble-grained hand grips for reduced slippage. Available styles include Cut-A-Way Rescue Tube, Guard of the Week Rescue Tube, Marine Rescue Can, Rescue Tube, Rescue Tube/Brass Clips, Rescue Tub/Plastic Clips, Rescue Tube/YMCA, and Splash Rescue Tube. Package quantity is 1. Colors are Blue, Navy, Navy/White, Orange, Red, Royal Blue/White, Yellow, and Yellow/Black. Dimensions vary per model.