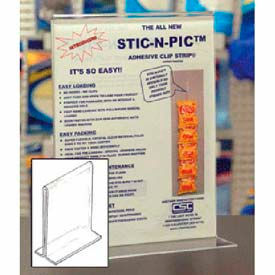 Clip Strip - Plastic Sign Holders
Clip Strip® Plastic Countertop Sign Holders Are Used For Clear And Affordable Retail Or Commercial Countertop Display Applications.

Clip Strip® Plastic Countertop Sign Holders are made of clear Acrylic, PVC, Polypropylene and Styrene materials for long lasting durability and dependability. Designed for easy insertion of printed material, clarity and stability. Wide selection of types to suit particular need or application include Acrylic Signholder, Affordable Slanted Style Easel Sign Frame, Affordable T-Style Frame, Angled Countertop Sign, Card Holder, Business Card Holder, Countertop Sign Holder, Slant Back Acrylic Vertical Sign Holder, Slatwall Acrylic Signholder and T-Style Acrylic Signholder. Measure 1-9/16 to 11 inches in width and 6 to 11 inches in height.