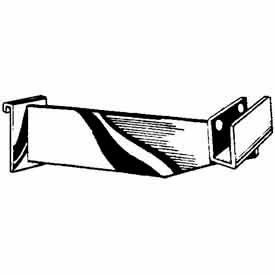 Wire Grid Panel Brackets (Bulk Quantities)
Wire Grid Panel Brackets Are Used For Retail Merchandise Display Applications.

Wire Grid Panel Brackets are solidly made for long lasting durability and dependability. Various types are available to meet particular grid display support need or application. Wall Brackets enable retailer to mount grid panel directly to the wall using four (4) wall brackets. Screws not included. Shelf Brackets have knife style design with lip. Accept shelf rests and bumpers for glass shelves. Hangrail Brackets are designed to hold round or rectangular tubing. Adjustable Shelf Brackets allow shelves to be positioned at five different 50, 70, 80, 90, and 110 degree angles. All brackets are available in 12 or 14 inch lengths (except Wall Brackets) and Chrome, Semi-Gloss Black and Semi-Gloss White finishes (Adjustable Brackets Chrome only).