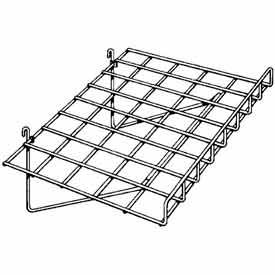 Wire Grid Panel Shelving
Wire Grid Panel Shelving Create A Variety Of Multi-Use Displays For All Types Of Retail Applications.

Wire Grid Panel Shelving is made of chrome with a variety of color finishes for strength and long lasting durability. For use with hard or soft line retail displays involving grid panels. Perforated metal shelves easily handle heavy loads. Types are Straight Shelf, Slant Shelf, Sloping Shelf, Triangular Shelf and Folding Bin. Color Finishes are Black, Chrome, Epoxy Chrome, Glossy Black, Semi-Gloss Black, Semi-Gloss White and White. Dimensions vary per type.