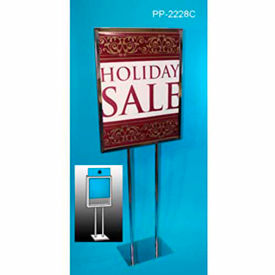 Clip Strip - Sign Holders & Accessories
Clip Strip - Sign Holders & Accessories Provide Signage for Bulk Displays, Sale Items, and Other Retail Shelving Applications.

These sign holders and accessories provide powerful and appealing retail displays for efficient signage. Holders and accessories are solidly made with aluminum, nylon, plastic, steel and other high quality materials for long lasting durability. Available types include Beaded Chain, Center Stem Base, Euro-Style Sign Holder w/Weighted Base, EZ Lok Post & Screws, Frame w/Stem Mount, Frames w/Flat Shovel Base Kits, Panel Connectors, Label Holders, Sign & Print Protector, and Wobbler. Colors are Black, Chrome, Clear, Nickel, Silver, and White. Dimensions vary per model.