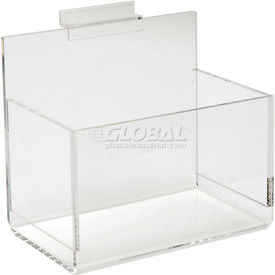 Acrylic Slatwall Shelves, Trays & Bins
Acrylic Slatwall Shelves, Trays and Bins Conveniently Display Greeting Cards, Magazines, Promotional Literature, and Other Related Items.

These shelves, trays, and bins are high visibility commercial and retail merchandise storage fixtures for clearly displaying items to attract customers. The acrylic and styrene construction provides both rigidity and impact resistance for years of reliable use. The multi-polymer material reduces loss due to damage while maintaining cost effectiveness. Dimensions and package quantities vary per model.