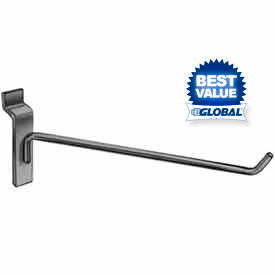 Slatwall Hooks (Bulk Quantities)
Slatwall Hooks Are Used For Commercial Or Retail Merchandise Display Applications.

Slatwall Hooks are made of sturdy all-welded steel with Black, Chrome, Satin Chrome, White or Zinc finishes for long lasting durability and dependability. Wide selection of 1, 4, 6, 8, 10 or 12 inch length Deluxe, Thin Line or Notch type hooks are available in bulk package quantities of 96 and 100. Some units include attached plastic label holders.