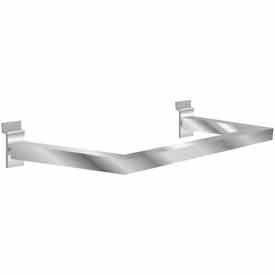 Slatwall U-Shaped Hangrails
Slatewall U-Shaped Hangrails Are Used For Prominently Displaying Merchandise In A Variety Of Retail Environments.

Slatewall U-Shaped Hangrails are constructed with chrome tubing for strength and long lasting durability. U-Shaped design for use on slatwall panels, gondolas, towers or merchandisers to hold multiple garments on hangers. Types are U-Shaped Rectangular Tubing Hangrail and U-Shaped Round Tubing Hangrail. Color Finishes are Chrome, Matte Black, Semi-Gloss Black and Semi-Gloss White.

All models 22" Wide x 11" Deep.