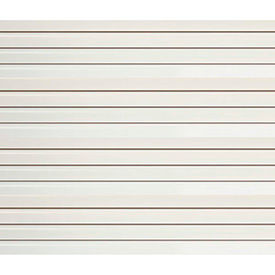 Windmill - PVC Slatwall Panels
Windmill - PVC Slatwall Panels are used to Create Retail Display Fixtures.

Made of durable PVC, these panel slatwall sections are lightweight and easy to handle. The sections fit together vertically with a panel lip for seamless and unlimited stacking. Panels are also water and moisture resistant. Panels measure 48"W x 12"H x 5/8"D. Four sections are included with each package. Available panel colors are gray, black, almond, and white.