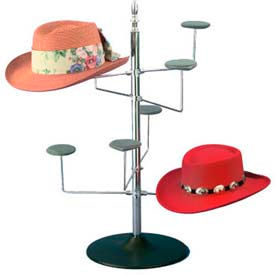 Wire Counter Top Racks
Wire Counter Top Racks Provide Easy And Attractive Viewing Of Merchandise For Storage And Display Of Sales Products.

Wire Counter Top Racks are great fixtures for promotional, seasonal, and closeout display items. Racks are made of durable steel and plastic construction for long lasting dependability. Racks can be used for literature, greeting cards, scarves, hats, books, cd's, dvd's, jewelry, socks, candy, hair accessories and other small items. Rotating racks available on some models for storage and shopper convenience. Available color finishes are Black, Black/Chrome, Chrome, Rose Gold, Steel, and White. Dimensions and package quantities vary per model.