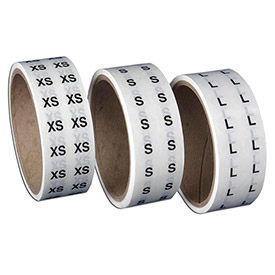 Garment Labels, Per Roll
Garment Labels Are Self-Adhesive For Easy Affixing To Clothing In Department Stores And Other Retail Outlets.

Garment Labels affix to clothing or tags to allow quick identification of clothing sizes. Labels are clear with black print. Strip Labels show number sizes, and come in rolls of 250. Circular Labels show letter sizes, and come in rolls of 1000. Circular garment labels are available in 1/2" and 3/4" sizes.