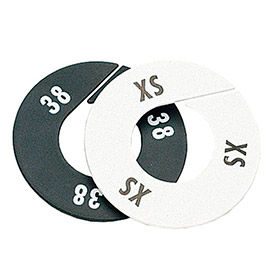 Rack Dividers (Rectangular & Round), 10/Pack
Rack Dividers Allow High-Visibility Organization Of Garments By Size In Department Stores And Other Clothing Retail Outlets.

Rack Dividers mount onto clothing display racks for easy grouping of garments by size. Molded polypropylene plastic is flexible and resistant to corrosion and yellowing. Rack dividers are available in a variety of color options. Choose from number sizes or letter sizes. Rack dividers are sold in package quantities of 10.