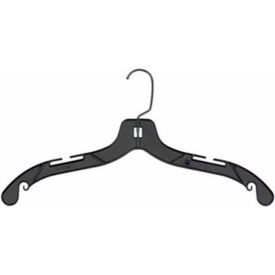 NAHANCO Plastic Hangers
NAHANCO Plastic Hangers Provide Economical And Durable Storage And Shelving Solutions For A Variety Of Clothing.

NAHANCO Plastic Hangers feature chrome hardware for long lasting durability and strength. Top hangers for big and tall sizes feature wide neck profile for more realistic presentation of garments. Bridal hangers are designed to support heavy gowns with reinforced hooks, deep notches and small hooks for delicate straps. Infant hangers are sized to fit child and small clothing. Intimate apparel hangers feature solid plastic construction to hold lightweight garments. Various features include molded non-slip shoulders to hold onto slippery or wide necked garments, notches to accommodate straps, swivel hooks, and soft pads on pinch clips to protect garments. Available hanger types include Bottom, Bridal, Coordinate, Dress, Infant, Intimate, Jacket, Pant, Skirt/Slack, Suit, and Top Hangers. Hanger weights include Light, Medium, Middle, Heavy, Jumbo, and Super Heavy Weight. Lengths and quantities vary per model.