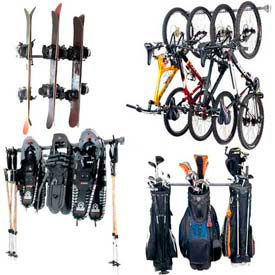 Garage and Sport Storage Racks
Garage Storage Racks Are Designed For Storing And Organizing Sports Equipment, Garden Tools, Chairs And More.

Garage Storage Racks offer solid steel support and dependability. Units hold bicycles, skis, chairs, campgear, baseball bats, golf bags, garden tools, snowboards, snow shoes and more. Includes hardware. Choose from a variety of types and sizes. Color finish is Powder Coated Soapstone Granite. Additional specifications vary per model.