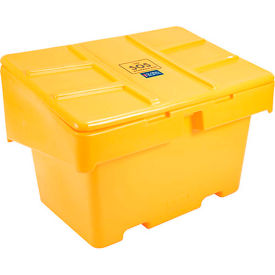 Outdoor Salt and Sand Storage Containers
Outdoor Salt and Sand Storage Boxes Provide Water Resistant Storage For Outdoor Residential, Hospitality, and Commercial Applications.

These boxes are made with polyethylene or heavy gauge HRS steel to provide long lasting durability and content protection. Capacity ranges from 235-1200 lbs. Available box types include Sloped Lid w/Padlock Hasp, Lockable Attached Lid and Counterbalanced Lid. 2-Way Fork Entry on some models. Colors are Black, White, Yellow, Gray, Safety Orange, Forest Green, Grey/Blue, Grey/Red, Grey/Green, Grey/Black and Grey/Yellow . Dimensions vary per model.