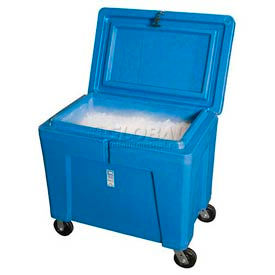 Polar Chest Dry Ice Containers
Insulated Storage Containers Are Specifically Designed For Storing And Transporting Dry Ice.

Storage containers are made using a special compound melt blend of plastic that resist cold impact for greater durability. Molded from food-grade linear low density polyethylene with 3" thickness and double walled foam filled construction for insulation. Used for storing blocks of dry ice. Lockable lid with silicone gasket reduces sublimation. Plastic containers include a tight fitting 2" thick insulated internal pad. Model 442904 includes 2 rigid, 2 swivel casters.