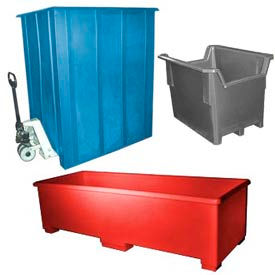 Unique Style Pallet Containers
These Unique Pallet Containers Are Designed For Specific Applications And Environments.

Pallet containers provide an alternate solution to pallets and pallet wrapping. Pallet containers are made of impact resistant seamless polyethylene that is easy to clean. Wide ledges on top rim allow secure stacking of containers. Base allows forklift entry for easy transport using pallet trucks and forklifts. Hopper Front Containers (442579, 442580 & 442581) feature a notched front for easy access to contents, even when stacked. 442584 features a double walled construction with smooth, flat bottom interior. Low Walled Containers (442588 & 442589) are perfect for textile industries, chemical containment and moving dry goods. Extra Long Pallet Container is perfect for bulky items and features flared feet for positive stacking. Low-Profile Containers (442591, 442592 & 442593) nest when empty and allow stacking with included lids. 442577 is over 6'H with straight side walls to maximize capacity. Side vertical ribs help minimize bowing under heavy loads. Does not stack or nest. Purchase Optional Lids to protect contents from dust and debris. All models are available in Gray, Red, Blue, Yellow or Green. Sold in quantities of 5. All models are non-returnable.