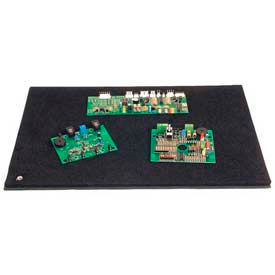 ESD Board Handling Work Surfaces
ESD Board Handling Work Surfaces Are Designed To Fit Most Transportation Carts.

ESD Board Handling Work Surfaces are made of 100% recycled impregnated corrugated fiberboard and polyethylene foam for long lasting durability and dependability. Board Handling Work Surface offers portable ESD work surface used to transport populated but unsoldered circuit boards. Static dissipative foam laminated to Protektive Pak® corrugate. Shuntable foam allows board lead to be kept at equipotential. Includes male grounding snap. Pro-Mats Work Surface includes two installed 3/8 inch socket snaps with stud snaps available. Resists damage by hot soldering irons, solder, or flux. Lead-free RoHS compliant. Reusable. Made in U.S.A. No assembly required. Styles are Economical Work Surface/Female Snaps, Portable Board Handles/Female Snaps and Portable Board Handles/Male Snaps. Color finish is Black. Dimensions and temperature tolerances vary per style. Package quantity is 1. 1 Year Limited Warranty.