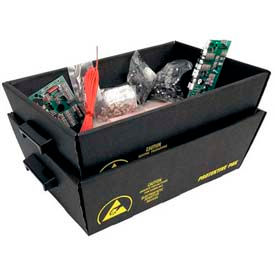 ESD Totes, Nesting and/or Stackable
ESD Totes, Nesting And/Or Stackable Are Used For Transporting And Storing ESD Sensitive Items.

ESD Totes, Nesting And/Or Stackable are made from extruded, high impact chemical and moisture resistant polypropylene materials with a steel reinforcing frame and double-thickness, rolled over side construction for long lasting durability and dependability. Variety of sizes and styles available to meet shipping and storing requirements. Provides physical path-to-ground protection with conductive material. Efficient means of transporting items to assembly area and empty totes back to store room for refilling. Conductive 10E2 - 10E4 ohm material provides reliable path-to-ground protection. Also for use where corrugated and/or paper products cannot be used. Economical alternative to injection molded products. Reusable. Made in U.S.A. Some models require assembly. Styles are Nesting Note and Stackable/Nesting Note. Color finish is Black. Dimensions and temperature tolerances vary per style. Package quantity is 1. 1 Year Limited Warranty.