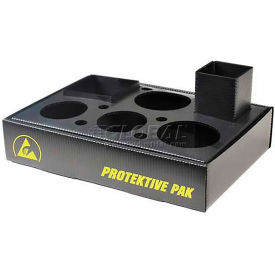 ESD Workstation Organizers
ESD Workstation Organizers Are Designed For Organizing Workbench Tools.

ESD Workstation Organizers are made of impregnated corrugated polyethylene for long lasting durability and dependability. Material construction offers greater durability than coated or printed material. Static dissipative surface of 10E6 - 10E8 ohms. Marked with ESD Protective Symbol per ANSI/ESD S541. Ships flat knocked down and unassembled. Made in U.S.A. Styles are Compact Organizer, Small Organizer and Universal Organizer. Color finish is Black. Dimensions and temperature tolerances vary per style. Package quantity is 1. 1 Year Limited Warranty.