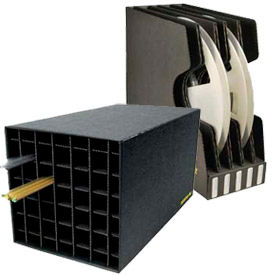 Reel and Tube Storage Containers
Reel and Tube Storage Containers Provide Economical Solutions To Storing Reels.

Reel and tube storage containers contain items within extruded, high impact polypropylene material for lasting durability. Variety of sizes and styles available to meet shipping requirements. Select styles include conductive plastic handles and removable lids. Constructed with double sides and ends. Stable design eliminates falling when only partially full. When cover is closed, Faraday Cage effect restricts electrostatic charges to exterior of box. Static dissipative surface. Identified with ESD Protective Symbol (Ref: ESD 8.1). Reusable. Made in U.S.A. Some models require assembly. Styles are Container, Container w/Lid, Container w/Slots, and Container with Stacking Corners. Color finish is Black. Dimensions, compartment sizes/quantities and temperature tolerances vary per style. Package quantities are 1, 5, and 15. 1 Year Limited Warranty.