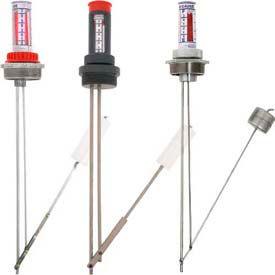 Krueger Sentry® IBC/Tank Liquid Level Gauges
Krueger Sentry® At-A-Glance® IBC/Tank Liquid Level Gauges Are Used For Measuring All Types Of Liquid Levels.

Krueger Sentry® At-A-Glance® Drum Barrel Gauges are made for long lasting durability and dependability. Swing arm type mechanical design promotes minimal maintenance, quick installation and easy, economical repairs. Monitors the levels of various liquids including phosphoric acid, sulfuric acid, hydrochloric acid, chlorine, bleach and more. Can accommodate any size tank from 6 to 110 inches in depth and can also account for double walls and pipe risers. Various types are constructed of Aluminum, PVC and Stainless Steel bushings, Galvanized Steel, Peek Plastic and Stainless Steel rods and HDPE and Stainless Steel floats. Wide selection of 2 inch diameter, 28 to 76 inch height units are available with 24 to 72 inch maximum working depth. 1 year limited warranty for manufacturer defects.
Note: Other construction and size options are available for custom order. Please Call for details. No minimum order required.