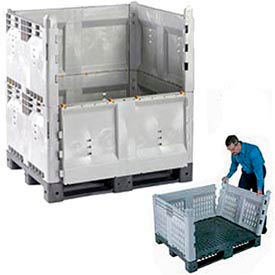 Quick Assembly Pallet Containers
Quick Assembly Pallet Containers Save on Return Shipping Costs!

These plastic pallet containers are used for agricultural, pharmaceutical, industrial and food service environments. These USDA approved, high density structural foam polyethylene bulk plastic containers resist rust, chemicals, rotting and warping. Large plastic storage containers withstand temperatures from 0°-140°F. Interlocking sides disassemble in seconds with a quick-release safety latch and lock back together securely without special tools, saving up to 75% of space on return shipping. Bulk storage containers stack up to 6 high with patented interlocking corners. Base permits 4-way fork entry and can be used as pallets without sides. Gray color. Available Solid Wall or Vented Wall containers. Caster Models have 6" plate casters (2 swivel, 2 rigid) with reinforced dolly base that allows stacking.