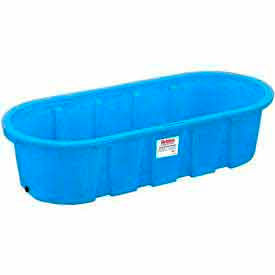 Oval Round-End Poly Stock Tanks
Oval Round-End Poly Stock Tanks Are Built Tough For Operation In Demanding Livestock Feeding Applications.

Oval round-end poly stock tanks contain large quantities of food and water for livestock. Most models are impact-resistant, UV-resistant, and won't rust or corrode. Tanks are offered in several sizes, in deep or shallow models. One-piece construction prevents cracking and splitting. Gallon capacity range is 15-300. Color and dimensions vary per model.