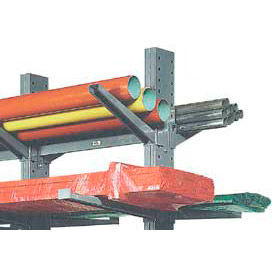 Straight & Inclined Arms For Cantilever Racks
Straight and Inclined Arms For Cantilever Racks are Ideal For Heavy Loads of Storage That Ordinary Pallets May Struggle To Hold.

Straight and Inclined Arms For Cantilever Racks help store long, bulky items in areas where space is limited. Arms are made with 7 gauge and 10 gauge steel. Pipe rack arms adjust at 3" increments on uprights. Included "Pin keeper" device permits easy adjustment and secures arms on cantilever uprights without the use of tools. Durable gray enamel finish. Straight Arms are perfect for storing long, flat items, such as lumber. Inclined Arms feature a 20 degree incline that's perfect for storing bar stock and pipes.

How to order:
1. Determine arm length and type desired. Note: Arm capacities are based on evenly distributed loads.
2. Purchase desired amount of arms needed for uprights. Note: Must purchase two arms per level of starter unit; one per level of add-on unit.