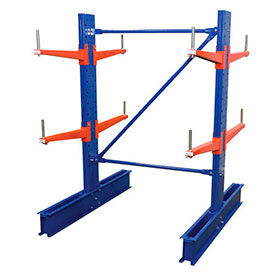 Complete Cantilever Racks - Baked Enamel
Complete Cantilever Rack - Baked Enamel - Store and Organize Bulky, Oversized Supplies like Steel Trusses and Piping, PVC and more.

Complete Cantilever Rack - baked enamel- systems are used for long term warehouse storage or other indoor storage. The baked enamel finish is a one-coat process where the top-coat is applied directly to the material for much harder and more wear resistant finish. They are primarily used for long term indoor applications like warehouse storage. The adjustable rack arms can be adapted to a customized position allowing the unit to fit the needs of individual circumstances. Available types are Double Sided and Single Sided. Choose 4 or 8 arms. Capacity is per level but some configurations can hold up to 43,000 lbs. Set includes High Double Sided Uprights, Brace Set, and 4 or 8 Arms. Dimensions vary per style.