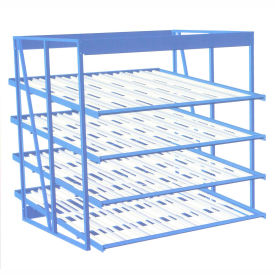 Gravity Flow Racks 96" High
Gravity Flow Racks 96" High Help Increase Productivity and Workflow by Increasing Ease of Storage Reach.

Gravity flow racks 96" high includes 4 hanging clips per level for easy height adjustments. Smooth front beams accept sticker labels for identification. Kenrail roller tracks are made with 22 gauge inverted galvanized steel channel and includes 7/8" diameter rollers on 1-1/2" centers. 22 gauge roll formed galvanized steel guide rails adjust on ½" increments for lane adjustments.

Gravity Flow Racks includes 4 levels, vertical upright frames and sway braces. 11 gauge formed steel uprights feature slots for ¾" shelf adjustment. 16 gauge steel sway braces for rigidity. Shelf frames have 25 lb. per square foot load capacity. 96W models include 14 Kenrail roller tracks and 6 guide rails per level. Add-on units include one less upright frame for easy attachment to starter rack.

Please note that these racks & components are not compatible with Western Pacific brand.