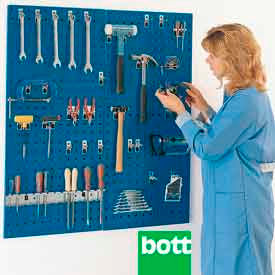 Bott Ltd. - Steel Toolboards & Accessories
Bott Ltd. - Steel Toolboards and Accessories Organize Tools in Garages, Warehouses, and more.

Bott Ltd. - steel toolboards and accessories organize tools and supplies. Each -1/2" deep tool storage panel is constructed of reinforced steel and holds up to 160 lbs. Can be wall mounted (fasteners not included) or to a tool trolley base (attachment kit included with tool trolley). Texturized paint in blue. Order accessories and bins separately. NOTE: Panel accessories attach securely to toolboard using locking tabs.. Wrench and locking tabs are included with lock-on tool holder sets, sold separately. Accessories include Angled Document Holder, Angled Peg Hook. Bin Strip, Cabinet, Cable Holder/Hook, Can or Cartridge Holder, Double Hook, Drill Bit Holder, Louvered Panel, Magnetic Holder, Paper Roll Holder, Pipe Bracket and more. Colors and additional specifications vary per model.