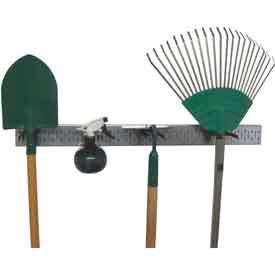 Wall Control- Pegboard Garden Tool Organizer Kit
Pegboard Garden Tool Organizer And Storage Kits Are Used Bulk Rack Systems Designed For Efficient Organization, Storage And Display Of Various Garden Tools, Supplies And Accessories.

Pegboard Tool Organizer And Storage Kits are made of solid formed metal construction for long lasting durability and dependability. Bulk rack wall display design offers improved workspace functionality. Both slots and holes accommodate a wide range of tools and accessories for enhanced versatility. Provide quick access to bulk rack tools and accessories for ease of use. Include shelf assemblies and dividers, hangers and hooks. Mounting hardware included. Can be mounted directly to studs or sheetrock for added reliability. Available in a wide variety of 32 inch height units with 32 and 48 inch widths, 6 and 9 inch depths and various combinations of Red, Blue, Black, Green or White colors. Limited Lifetime Warranty on manufacturing defects. 30 Day Money Back Guarantee. Made in U.S.A. 2-1/2 inch height Pegboard Strips also available and are used for hanging shovels, racks, hammers, buckets or any other item with a handle. Include 4 hanging holder brackets and are sold in sets of 2 16 inch length strips.