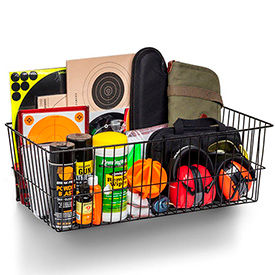 Rack'em™ Mount Anywhere Wire Baskets
Rack'em™ Mount Anywhere Wire Baskets Store and Organize Tools, Outdoor Gear, Cleaning Supplies, and more.

These wire baskets are available in varying sizes to accommodate a host of shop or personal needs. Steel wire construction is made to withstand daily cleaning with bleaches, common acids, bases and solvents used for sanitizing and often found in food & chemical plants. Caricature labels included for identifying basket contents easily. Heights are 4", 6", and 8". Widths are 12", 18" and 24". Depths are 6" and 12". Available with white or black finish. Mounting hardware included.