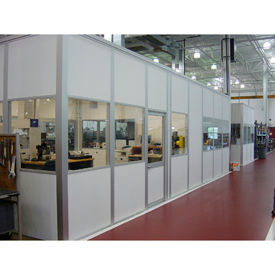 Porta-King Modular Inplant Offices, Class A Fire, STC31 Sound Rated, Vinyl Clad Over Drywall (Aluminum Frame)
Create highly functional space anywhere inside your facility. Pre-engineered components are easy to install to minimize down time.
Every order includes detailed instructions with suggested floor plan layout and an illustrated packing list.
All orders include all necessary wall panels, connecting post, roof deck, acoustical ceiling system, door, and hardware to construct the sizes and floor plans identified.
Wall panels are 8' high, 3" thick and interchangeable with like size panels.
Door is a 3068 right hand swing door with large vision lite and a lower panel that matches the finish of the interior and exterior wall panel surface.
Factory installed into a frame that positively locks into adjoining post to eliminate the risk of door sag.
Mechanical fasteners are supplied for installation above and below the top hinge plate to reinforce this connection.
Wall connecting posts double as a vertical wiring chase.
8' high snap-in cover plates are included for each connecting post to conceal wiring while enabling quick access to the wiring chase during and after set-up.
Connecting posts are also load bearing to enable future creation of two story or storage loading designs.

All orders also include a standard electrical kit consisting of the following:
2'x4' recessed T8 light fixtures (quantities as specified) (tubes not included)
Light switch and 115 volt electrical outlets (quantities as specified) include handy box that is easily fastened to the back of the connecting post and a cover plate to create a neat and finished appearance.
All devices bear the U.L. label.

Class A fire rated steel panels include:
A solid polystyrene core (UL Class 1) and a heavy duty 24 gauge siliconized polyester painted steel surface laminated to a ½" layer of drywall on both sides of the panel.
This laminated design creates a super durable, impact resistant surface perfect for harsh plant environments.
Available in gray and white or beige color match.