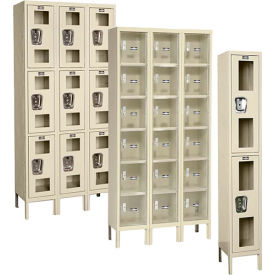 Global Clear View Lockers
Global Clear View Lockers Offer High Content Visibility in Schools, Commercial Facilities, Factories, and More

Clear View Lockers permit easy viewing of shelving and storage contents using transparent, scratch resistant polycarbonate windows. Locker frames are made of 24 gauge steel for long lasting durability. Double and Triple Tier locker doors are equipped with stainless steel recessed handles and padlockable gravity latches. Recessed handles provide a safer, catch-free surface that discourages tampering and protects locker fronts from padlock wear. Five Tier, Six Tier, 4-Wide Wall Mount and 16 Person Lockers have a padlockable friction latch. Features available with some models include hat shelf, double prong hook, single wall hooks, and coat rod. 16 Person Storage Lockers are used for accommodating many people in a small area and include a coat rod for garment storage. Legs add 6" to overall height. Locker types are Double, Triple, Five and Six Tier, 16-Person, and 4 Person Wall Unit. Available in 1 and 3 wide configuration. Color finish is Tan. Includes 2 Year Limited Warranty.

*Note: Includes Blank Locker Number Plates (Installation Required).