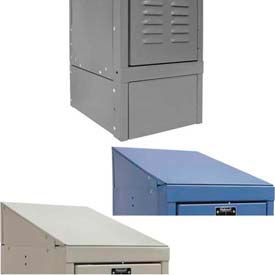 Hallowell Steel Lockers Accessories - Side Base and Slope Top
Hallowell Steel Locker Accessories Allow Easy Customization of Hallowell Lockers.

Hallowell steel locker accessories are all made using cold rolled sheet steel for lasting durability. Front Bases and Side Bases close up locker bases to prevent dust and debris buildup. Front bases include projecting tabs on side flanges, allowing bases to be snapped into place with no additional fasteners. Side bases are bolted to front and rear legs. Individual Slope Tops are made with an 18 degree pitch and include a splice cover with concealed spring clip to cover joints. Slope Top End Closures close up slope top ends for a neat appearance and easy cleaning. Colors and dimensions vary per model.