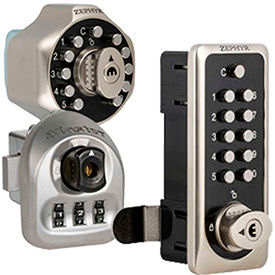 Multi-User Mechanical Locks
Multi-User Mechanical Locks Allows Users To Secure Belongings In Spas, Gyms and Places Of Employment.

Multi-User Mechanical Locks are made of high quality materials to ensure security of personal property. Shared use capabilities allows facilities to conveniently give their visitors the ability to choose their own combination. Available Lock Types are 3-Digit Combination and Keypad Lock Units with keypads feature up to 10-digits for a variety of combination inputs. Models featuring digital combinations are ideal for standard lift handle lockers. Dimensions and additional specifications vary per model.