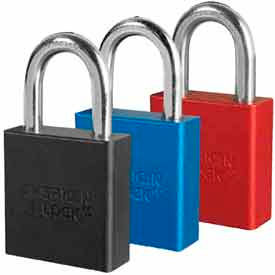 Security Solid Aluminum Padlocks
Security Solid Aluminum Padlocks Come In a Wide Variety of Styles and Colors For Easy Identification.

Security solid aluminum padlocks are designed for a wide range of applications including tough corrosive environments. Padlocks are made from solid aluminum for strong protection, long lasting durability and corrosion resistance. Padlocks have hardened steel or boron alloy steel shackles for superior cut resistance. Aluminum locks are available with 5-pin cylinder or 6-pin cylinder. High Visibility Aluminum Padlocks have a protective coating that stays bright for lockout applications. Locks come in a variety of colors including Black, Blue, Brown, Camouflage, Clear, Gray, Green, Orange, Purple, Red, Silver and Yellow. Keyable and non-keyable styles are available. Sizes, weights and package quantities vary per model.