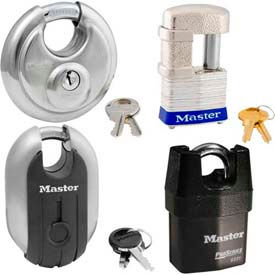 Security Diskus® and Shrouded Padlocks
Security Shrouded Padlocks And Discus Padlocks Offer The Greatest Protection Against Cutting And Prying Attacks.

Security Shrouded Padlocks feature a heavy steel or stainless steel body for maximum strength, reliability and corrosion resistance. The fully shrouded design minimizes shackle exposure and protects against bolt cutter attacks. Padlock shackles are made of boron alloy, hardened chrome moly, stainless steel or steel for extra resistance to cutting and sawing. Choose from Keyed Alike or Keyed Different padlocks. Sizes vary by model.