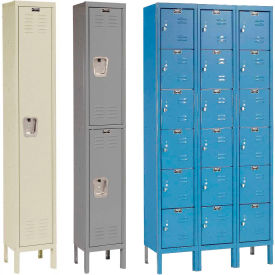 Hallowell Premium Steel Lockers - Ready To Assemble
Hallowell Ready-to-Assemble Premium Steel Lockers Feature Recessed Handles for a Catch-Free, Neat Appearance in Schools, Gym Locker Rooms and More.

Hallowell Ready-to-Assemble Premium Steel Lockers have louvered steel doors with stainless steel recessed handle and fingertip lift lever for easy opening. Smooth front profile of the recessed handle prevents catching and banging. Locker handle also includes an integral padlock hasp that shelters lock shackle to discourage tampering.Single Tier Lockersinclude hat shelf; DoubleTier Lockers include ceiling hook and two wall hooks; and Triple Tier Lockers include ceiling hook. 5 Tier, 6 Tier, 16 Person and 4 Person Wall Lockershave friction latch and hasp closure. All premium gym lockers are painted inside and out with powder coat finish. Legs add 6" to height. Metal storage lockers include a number plate. These office lockers are available in Black, Black/Light Gray, Black/Red, Blue, Gray, Green Mist, Maroon and Parchment. Dimensions vary per model.