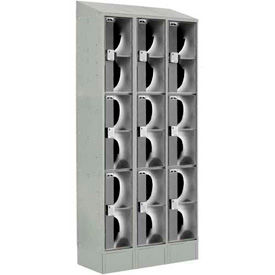 Digilock Clear View Digital Lockers
Digilock LockUp lockers with ultra-strong, polycarbonate doors and 16 gauge steel frame, 24 gauge steel body provide secure yet visible storage of personal belongings and products. Locker doors are securely mounted to frames with continuous hinges. Lockers include number plates (start with #1, if not specified on the PO), front and end bases and lockup Digilock locks and one Manager Flex Key. Lockup locker features intelligent, electronic locks that are simple to use and easy to manage. Lockers close and open with a 4 digit code entry on the keypad. The Manager Flex Key allows facility managers can easily program locks and gain immediate access to any locker, or power jump a lock when the batteries become too low to operate. One Manager Flex Key is included to the locker shipment.

To ensure the Manager Flex Key is fully programmed for your LockUp locker system, the company name as well as the locker installation address must be specified on the PO, if it is different from the ship to address. To order a replacement Manager Flex Key or additional Manager Flex Key for an existing installation, Sales order number on the Flex Key or the existing installation address needs to be provided on the PO in order to match with the manufacturer's records. Please also include the reason why an additional manager key is being requested, for example, previous key was lost, stolen, damaged, or requesting additional stock.