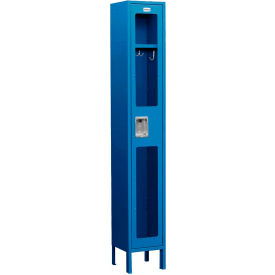 See-Through Metal Lockers
Salsbury See-Through Metal Lockers Provide Storage Security And Visibility For Applications Including Industrial, Recreational, Retail And More.

Salsbury see-through metal lockers are made of polycarbonate and steel for long lasting durability and dependability. Includes lift handle and recessed hasp and accommodates combination or key locks for added security and theft protection. Locker compartments feature 3 single wall hooks for added storage space. Available types include Single Tier, Double Tier, Triple Tier, Four Tier and Six Tier. Groups are 1 Wide and 3 Wide. Series include S-61000 Series, S-62000 Series, S-63000 Series, S-64000 Series and S-66000 Series. Openings range from 1 to 18. Package quantity is 1. Colors are Blue, Gray and Tan. Dimensions vary per model.