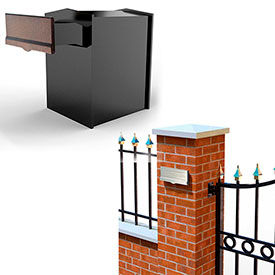 QualArc Collection Mailboxes with Adjustable Chute
QualArc Collection Mailboxes With Adjustable Chute Enhance Visual Décor For Applications Including Residential, Commercial, Hospitality And More.

QualArc collection mailboxes with adjustable chute is made aluminum for long lasting durability and corrosion resistance. Mail is deposited in letter plate, passed through unit chute and stored in collection box. Features large capacity storage area, security lock retrieval door and 2 keys for content access and stability. Chute depth can be adjusted between 4" to 6" and is held in place with masonry and silicone adhesive. Type is Rear Access. Mounting type is Wall Mounted. Package quantity is 1. Colors are Black, Black w/ Antique Copper Letter Plate and Black w/ Brushed Chrome Letter Plate. Dimensions vary per model.