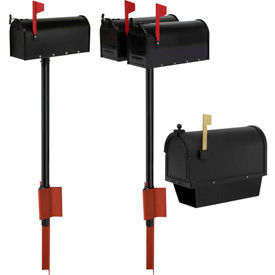 Aluminum Post Top Mount Mailboxes
Aluminum Post Top Mount Mailboxes Meet All US Post Office And Federal Highway Pole Breakaway Standards.

Aluminum Post Top Mount Mailboxes are designed to prevent severe injuries or fatalities from vehicular collisions with mailboxes. Each assembly includes a reusable V-Loc® breakaway anchor. Upon impact, the change in velocity of the vehicle is slight, and the danger of the mailbox support penetrating the vehicle windshield is essentially eliminated. Installation is simple and in the event of knock-down, the system can be reset in minutes for long lasting use. Stylish yet durable mailbox assembly features cast aluminum mailbox with newspaper holder. Available with 1 and 2 mailboxes. Style is Side Loading. Color finish is Black. Dimensions vary per model.