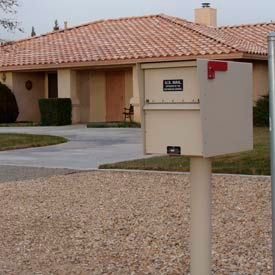 Standard Letter Lockers
These High-Security Locking Mailboxes Hold Up To 2 Weeks Of Mail.

Choose between Steel, Stainless Steel or Aluminum Letter Lockers. Letter lockers are made with one-piece framing for maximum strength. A 2 H x 11 W incoming mail slot and 3 H outgoing mail tray are housed behind a magnetic door, allowing mail to be dropped in and stored safely. These mailboxes include 5-pin cam lock with 3 keys for security. Includes a stainless steel red flag. Hardware included. Rear Access Mail Boxes feature a locking door in the back. Used for pilaster settings and recessed walls. Heavy Duty Mailboxes are made with 10 gauge steel. Light Duty Mailboxes are made with 16 and 18 gauge steel and do not include a red flag or outgoing tray. Powder coat finish available in Black, White, Gray, Tan and Bronze. Conditional Lifetime Limited Warranty.