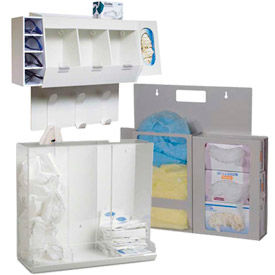 Lab and Medical Isolation And Dispenser Stations
Lab And Medical Isolation And Dispenser Stations Offer Space Saving Storage For Hospital And Operating Room Attire And Personal Protective Equipment.

Lab and Medical Isolation And Dispenser Stations are constructed of steel, acrylic, aluminum, metal or PVC for long lasting durability. Isolation Storage Stations are door or wall mounted units that save floor space and allow storage of personal protective equipment in areas with space limitations. 3, 4, 5 or 7 compartment stations hold medical gowns, masks, face shields and gloves. Lab Entry Changing Stations are wall mountable, multi-compartment storage for safety items, disposable clothing and other supplies needed for laboratory work. Apparel Dispensers have hinged lids for top loading and bottom dispensing. Wall-mount Lab Boxes are used in multiple settings for drop offs, sorting or storing supplies. Other available dispenser stations for hair nets, infection prevention, shoe covers and more. Dimensions vary per model.