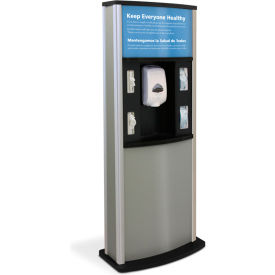 Infection Control Stations
Infection Control Stations Are Suitable For Clinics, Universities, and Other Public Venues In Need of Easily Accessible Sanitation Stations.

Infection Control Stations feature a traditional design and structure to compliment a variety of settings while offering quick access to dispensers of sanitizers, tissues, and masks. Most models feature Lockable rear storage for quick and easy replenishment and include a secure pump sanitizer dispenser holder, two tissue dispensers and two face mask dispensers that fit the most standard boxes from major brands. Select models feature a graphics header display to encourage healthy standards. Available Constructions are Steel/PVC, Steel/Plastic, and Steel/Wood Grain. Dimensions and additional specifications vary per model.