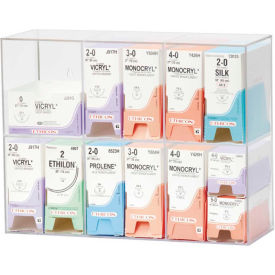 Suture Storage Racks
Suture Storage Racks Provide Quick Access Storage For Compatible Shaped Suture Kits.

Suture Storage Racks fit rows of suture kits on slanted or even shelving. Some models are compact in design for placement on top of counters, tables, and more. Some rack models feature front rails to keep boxes in place when retrieving suture packages. Transportation suture carts with pneumatic caster wheels allow easy portability from one location to another. Most units feature economical suture racks made from resistant, white, PVC plastic are wall mountable. Available Constructions are Acrylic, PVC Plastic, and Steel/Acrylic depending on the model. Dimensions and additional specifications vary per model.