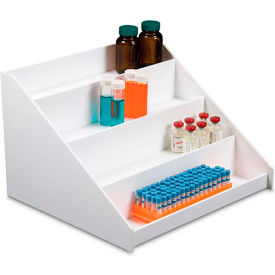 TrippNT™ Lab Shelf Stations
TrippNT™ Lab Storage Shelves Organize Chemicals, Sutures, Consumables And More In Hospitals, Urgent Care Centers, Doctors' Offices And Other Healthcare Facilities.

TrippNT™ Lab Storage Shelves are made of white, PVC plastic that is chemical resistant, durable and easy to clean and sanitize. Medical storage shelves are open bench top or wall mount units for easy supply stocking and retrieval. Available in 1, 2, 3 or 4 shelf units of various 18 to 70 lb. load capacities, configurations and dimensional sizes.