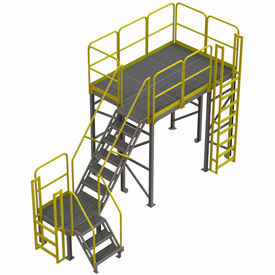 TRI-ARC (MAX ACCESS) MODULAR PLATFORMS & STAIRS
Tri-Arc (Max Access) Modular Platforms & Stairs Can Be Configured To Suit Any Applications For High Height work.
Customizable Max-Access Aluminum Work Platforms are made of lightweight aluminum construction to provide long lasting durability. Serrated grating platform surfaces, stair treads and perforated non-slip ladder rungs provide workplace safety. Foot plates have holes for anchoring down.
Platform components can be used together for more width or length.
Stairs and ladders can connect different levels to create multi-tiered systems and provide maximum flexibility for maximum access options. Tower supports must be used behind any stair or ladder. Color finish is
Gray and Yellow powder coat.
Available inclines are
50-degree and 90-degree.
Quantity of steps ranges from 2-11. Heights vary by model.