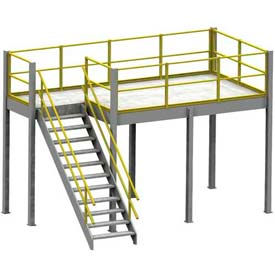 Equipto - Complete Mezzanine Systems
Equipto - Complete Mezzanine Syatems
Equipto pre-fabricated mezzanines can help you create more floor space in a cost effective way.
All Units Include:
Mezzanine
Decking
Railing
OSHA Stairs
Lift Gate

They are pre-fabricated so they are easy to install, move and add on to if your requirements change. Designed to integrate with other Equipto products to provide space saving that is custom tailored for your individual application. All decks offer 125 lbs./sq. ft. capacity.

Custom sizes are available upon request.